Oh, this has to be the couple of the summer, if not the YEAR!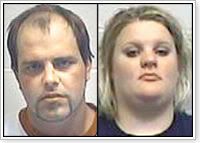 Cops nab pair for sex act in public

A Moorhead man scheduled to be married today was arrested early Friday morning for having sex in a public place while wearing a kilt, and with a woman other than his fiancée.

Nathan Ross Blair, 24, and Chandra Schaefer, 20, were arrested after police received two reports within 90 seconds about 3:15 a.m. that a man in a black kilt was exposing himself and then seen having sex with a woman on a car in the 1000 block of North University Drive, according to police dispatch logs.

According to Cass County District Court documents:

Police found Blair and Schaefer intertwined near a pine tree after a friend pointed them out to police officers responding to the complaints. All three were walking home when Blair and Schaefer told their friend to keep walking. She turned around to see them having sex on the hood of a car, she told police.

When police shined a flashlight on the pair, Blair turned around and looked at the officer but continued having sex with Schaefer until the officer ordered him to stop.

Schaefer was then instructed to put her pants on.

When questioned by police, Blair denied exposing himself to passing cars or having sex with Schaefer on the car.

Blair, 630 Birch Lane S., was still wearing a kilt and a "FOR SALE" T-shirt when he appeared in Cass County District Court by closed circuit television Friday morning.

He pleaded not guilty to misdemeanor charges of fornicating in a public place and indecent exposure, convictions that could require him to register as a convicted sex offender.

Formal charges had not been filed as of Friday against Schaefer, 3407 46th Ave. S., Fargo, who was released after posting $300 bail.

She was wearing a shirt with Blair's first name and the logo of Blair's Disc Rolling, the Moorhead business he owns and operates, when she was booked at the jail.

Police noted that both appeared intoxicated when they were arrested and cited Schaefer for being a minor in consumption.

After posting $300 bail and being released from jail, Blair initially told a Forum reporter that the allegations against him were untrue and said he wanted to explain what really happened, but did not elaborate.

When called a second time and read a copy of the police report, he said he did not wish to comment on whether what it said was untrue.

"I'm sorry I even said that before I talked with my lawyer, and I shouldn't have even said anything," he said.

When asked if he was still getting married today, Blair said "goodbye" and hung up the phone.

When reached Friday, Schaefer said what she was accused of was not true, but she did not care, before saying she had no comment and hanging up.

Attempts to reach the fiancée were unsuccessful.
The comments
are equally entertaining.